33rd HBC Annual Members' Exhibition
33rd HBC Annual Members' Exhibition
Jane H. Aaron, "A Child's Garden of Verses" by Robert Louis Stevenson. Dark green chagrin with onlays in multicolors of oasis goatskin. Painted top. Exposed sewing on raised cords. Endpapers are enlarged copied fragments of Matisse paintings. Box of cloth. 9 5/8 x6 1/4.
Tom Conroy, "The Omnibus of Crime" by Dorothy Sayers. Full scarlet Oasis leather binding with blind and gold tooling. Washed and gelatine sized; Herringbone sewing, laced in vellum spine linen over joins, back bead linen headbands over embroidered with yellow silk. Tight back, set for gape to provide tension against the clasps. Positive-spring clasps of brass with covering leather over vellum. Blue buckram dropspine box. 6 x 8 5/8 x 2 1/2.
Coleen Curry, "Erasmus Collected Proverbs" Half goat skin leather binding with decorated Japanese paper. French binding with false raised bandes.on spine. Endpapers are the same Japanese paper as cover.. Inner special fireproof luxury box in same goat skin. Outer Japanese silk clamshell box. 17mm x 11mm
Sarah Elson, "Photo Album" by Sarah Elson. Pastepaper (by binder) covered photo album, sewn on two tapes. Colored cloth endbands. 7 1/4 x 11 3/4
Heidi S. Ferrini, "First Rain" by Heidi S.Ferrini. Folded and bound with Italian longstitch into a Tim Barrett paper cover. A poem and 8 monoprints on hand torn Rives sheets. 10 1/4 x 8 1/4 x 1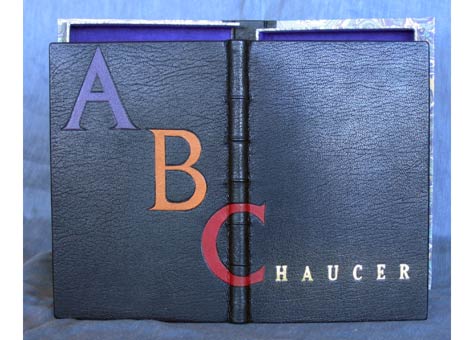 Mark Davis Flaherty, "Geoffery Chaucer's abc" by Geoffery Chaucer. Full black Oasis leather binding with raised bands, gold top, embroidered head bands, leather onlays and gilded title, decorative end-papers. Clamshell box of same leather with decorative paper and ultra-suede.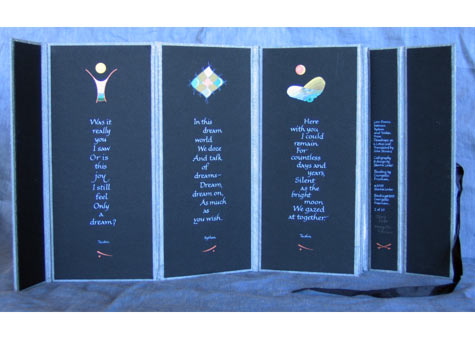 Georgette Freeman, "Love Poems Between Ryokan & Teishin" Unique book design: 9 panel French tablet in silk brocade book cloth by binder. Calligraphy and graphic design by Sherrie Lovler. 4 1/4 x 9 5/16" 47" when fully extended.
Patricia Galante, "Frankie & the Phoenix" by Nancy Watten Coopersmith. Concept and Model Fabriction by Marc Goldyne. Illustration by Marc Goldyne and Donald Fransworth. Full white buffalo leather binding with onlays of multicolor leather. A factual 1989 event during the 1989 San Francisco earthquake in the Marina district. 13 x 9 3/4 x 1
Diana Goldstein, "India Papers: Volume I" by Diana Goldstein. A vertical accordian book, opening from-11 1/4" wide x 7' high to 11 1/4" x 5l 1/2" with an embossed cover and collaged images. Based on the ancient palm leaf structure, the book has a thread that runs through all the pages and ties the book closed.
Karen Hanmer, "Bookbinding for Book Artists" by Keith Smith and Fred Jordan, 1998. "Quick Leather Bindings" by Keith Smith. Dos-a-Dos format English style springback book of Harmatan Goatskin and paper by the binder: photos of square dancing couples courtesy of the Library of Congress. Red Moriki joint . Clamshell box covered in black Buckram. 9 5/8 x 5 3/4
Lyall F. Harris, "Breastfeeding" by Lyall F. Harris, A white paper and string 4 x 4" carousel format plus 4 external elements.
Najat B. Goldwasser, "The Holy Bible" Printed in 1763 at Cambridge. Extensive restoration and cleaning of text and cover including leather and gilding. Complete box made by binder. Half leather goatskin; raised bandes on spine and French handmade marbled paper. Hand gold gilding. 20 1/4 x 13 1/4 x 3 1/2
Signa Houghteling, "Joan Maid of Orleans" by Chronicles de France 1493. Full black goat leather binding with onlays of eel skin, goat leather, gold and semi-precious jewels and wood. Gilded top, French joints decorative endpapers with ultrasuede doublures. 15 3/8 x 10 1/2
C. L. Ingalls, "Blank bookblock is made with hand torn Arches text 120 gsm." Book is covered with imported Italian decorated paper with Oasis leather at the head and tail. Matching decorated paper for headbands. Box of same decorated paper. 6 1/4 x 4
Margaret H. Johnson, "Blank Books" by Margaret Johnson. This is a set of 4 Japanese style bindings, each with a different style of sewing. They are enclosed in a textured paper-back silk wrapper and fastened with a bone fastener. 8 3/4 x 6
Jay Chadwick Johnson, "Binding Model". Full vellum drummed onto lined boards, constructed using German case method. Handsewn endbands. 8 x 5 1/2
Nysa Wong Kline, "L'Infinito" A selection of translations of Leopardi's poem. Three-quarter binding in orange oasis. Onlays of turquoise calf. Blind-tooled titles in multiple languages frame the vibrant marbled paper to convey the essence of the poem. Sewn on cords with embroidered silk headbands in four colors. 9 1/2 x 13
Catherine Kornel, "Poum" by Paul & Victor Margueritte. Half leather binding of Burgundy French Cape Morocco with collaged and stitched Japanese paper designed by binder. Embroidered silk headbands. End Papers are of Japanese handmade paper. 7 1/2 x 5 1/2
Monique Lallier, "Heaven on Earth" by John Muir. Buffalo skin leather binding with edge to edge doublure and flyleaves of same leather. The front and back boards are cut out to represent the mountains and rivers. Raised shape covered with pewter following the creased leather. Clamshell box in cloth with title on spine. 6 x 8 1/2
Vail Maes, "Birthday Invitation and CD holder." Japanese decorative paper, bookcloth, color xerox. Edition of 68. 5 1/4 x 5
Sabina U. Nies, "Heaven on Earth" by John Muir. Harmatan goat binding with onlay of the same material. Water color and gold tooling for page edge treatment. Doublures and flyleaves are also of Harmantan goat skin. Deluxe clam shell box, rounded spine, handmade paste paper by Sun. 7 1/2 x 6 x 1
Melinda Padgett, "Death comes for the Archbishop" by Willa Cather. Ivory calf and Morocco onlays with blind tooling. Tight back binding with leather hinge and sewn on vellum. Endpapers are reproduction 1891 New Mexico maps. Asahi covered clamshell box. Silk double head bands. 8 x 6 1/2
Joanne Page, "The Unicorn's Garden" by Joanne Page. A mixed media collage, artist book in carrousel structure. Paste paper by Claire Maziarczyk. 6 3/4/ x 51/4
Eleanore Ramsey, "Alice's Adventures in Wonderland" by Lewis Carroll. Book covered in full teal French Cape morocco with a pink chagrin rabbit hole, in profile, extending onto front and back covers. Design represents Alice's fall through the rabbit hole focusing on the elements of time as used in the story. Front cover also inset with red heart in box calf. Doublure and fly leaf of teal suede. Book titled in gold on green French Cape morocco spine. Clam shell style box. 13 x 11". On loan from the Burstein Collection.
Robert S. Rosenzweig, "About Love" by Regina Kirschner-Rosenzweig & Robert Rosenzweig. Full crimson Harmatan goat leather with woodcuts on the pullout panels to hold up the open book. The joints are montage sur onglets and sewn on tapes, the fly leaves are of navy ultrasuede.The edge of the prints are hinged together so one sees directly from print to print with-out seeing the backside. All 15 original monotypes are by Regina, done between 1989 and 1995. A linen covered drop back box lined in Navy ultrasuede. "About Love" was conceived, designed and bound by Robert from fall of 2003 and done by spring of 2005. 23 1/4 x 16 7/8
Jessica Spring, "A Proverbial Book" by Jessica Spring Springtide Press. Found illustration from a vocabulary reader. Letter press printed with hand coloring. Covered in Brazilwood-dyed chamois and vintage cigarette card, Sewn on cords. Japanese end papers. 5 1/2 x 3 1/2
Lily Stevenson, "A memory: Growing up in Shanghai, China" 1933-1947. Sewn board binding in BFK Rives.paper. Multiple signature link stitch, linen thread over vellum and straps laced into covers. Acrylic, pastels, chalk, ink and gouache were applied to BFK Rives paper. Calligraphy was written using several sizes of hand-cut quills. Drop-spine box covered in cloth; lined with Bombay silk paper. 11 1/4 x 7 1/2 x 5/8
Gail Sulmeyer, "Finishing in Hand bookbinding" by Herbert and Peter Fahey. Full purple Harmatan goat leather binding and head is purple with gold. Ultrasuede endpapers and flyleaves. Purple leather spine box with purple book cloth lined in ultrasuede. 9 1/2 x 6 3/8
Pamela S, Wood, "Gilded Wings" by Pamela S. Wood. Commercial brilliant orange for title paper; Hand cut wings-commercial bright paper-edged with l8 kt guilding gold. Origami fold spine-non adhesive folded tabs hold in each wing. 5 x 4 3/8
Constance K. Wozny, "Collected Proverbs" by Erasmus. Full red goat leather binding and raised bands on spine with the title on leather labels. Colored patterned top with hand sewn head bands. Aqua box in Buckram lined with matching marbled paper. 6.1/2 x 4 1/5